Published: 24 September 2009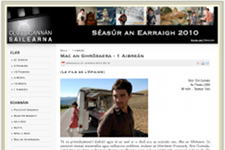 Irish English bilingual feature,
English translation implementation.
Joomla CMS,
Web design,
Web development,
Domain name management,
Content integration,
Website Hosting.
Clubscannan.ie was set up for a small rural film club, operating in South Conamara. It has proved to a most efficient and cost effective method of providing information, to a dispersed target audience. Visitors to the site can view a trailer to the next film, due to be shown by the film club. This has proved a great attraction for our members and our target audience and has resulted in a boost in membership of the club and in awareness about it. As a result we are getting bigger audiences for the films, which has led to increased revenue for the club, thereby ensuring its viability.
Donncha Ó hÉallaithe Read a testimonial
Treasurer of Club Scannan