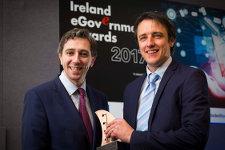 We are delighted that our work with our client, the Department of Arts, Heritage, Regional, Rural and Gaeltacht Affairs, receives another recognition in the 2017 Ireland eGovernment Awards.
The list of the winners can be found here:
www.egovawards.org/awards-2016/award-winners/
Minister Simon Harris TD, Tadhg O'Shea (DAHRRGA), Hervé Boinnard (Puma - IT)
A second project, also realised with Joomla! for the Department and the National Archives of Ireland, was shortlisted in the category Gaeilge (Irish Language Award): Taighde Teaghlaigh 2016 (2016 Family History).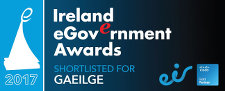 We are very proud to be honoured and look forward to doing even more for our clients in 2017!