Published: 07 October 2010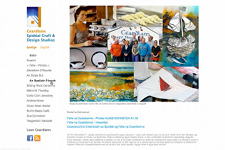 Irish English bilingual feature,
Irish translation implementation.
Joomla CMS,
Web design,
Products photography,
Web development,
Domain name management,
Content integration,
Website Hosting.
Ceardlann, Spiddal Craft and Design Studios is located at the entrance to Spiddal Village, just beside the beach, overlooking the beautiful Galway Bay, Cliffs of Moher and The Aran Islands. Here you will find 10 Craft workers designing, creating, making and selling their work. This unique and very accessible craft village, also called the Spiddal Craft Centre, and Ceardlann in Irish, is a "must stop" for visitors interested in Irish culture and craft. Shop, eat, drink, relax and enjoy!
Tá "An Cheardlann" - grúpa stiúideonna ceardaíochta agus ealaíona - suite caol díreach cois na trá ar an taobh thoir den Spidéal, ag breathnú amach ar Chuan na Gaillimhe, Aillte an Mhothair agus Oileáin Árann. Is ann a fheicfidh tú deichniúr ceardaithe éagsúla i mbun dearadh, cruthú agus soláthair a saothar. Is mór is fiú d'aon chuairteoir ar spéis leo ceardaíocht agus cultúr na hÉireann cuairt a thabhairt ar Cheardlann an Spidéil. Ní bheidh deacracht ar bith agat an áit a aimsiú agus tá sé breá éasca do bhealach a dhéanamh timpeall. Más fonn siopadóireachta atá ort nó fonn bia, buail isteach, tóg go réidh é agus bain sult as!