Published: 19 August 2010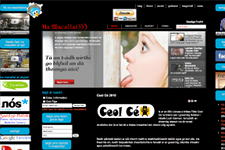 Fix issues with phplist integration for Joomla, like encoding for accented letters, "fada" in Irish,
New module positions for JoomFish language selection and a donate button.
Bunaíodh Na Macallaí i 2006 chun na Gaeilge a chur chun cinn i gContae Loch Garman. I 2008 fuair 'Na Macallaí' maoiniú ó Fhoras na Gaeilge faoi 'Scéim Phobail Gaeilge 2008-2010'. Fostaíodh 'Na Macallaí' an chéad oifigeach forbartha Gaeilge riamh sa chontae i 2008, b'é Richie Ó hEadhra ó Ghaeltacht Chonamara a ceapaíodh. Tá réimse leathan d'imeachaí ar siúl ag 'Na Macallaí' agus iad ag cur chun cinn na Gaeilge sa chontae.