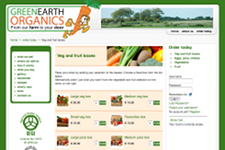 VirtueMart Joomla shopping cart,
Products photography,
Web development,
Products integration.
Joomla CMS,
Web design,
Web development,
Content integration,
Website and Email Hosting.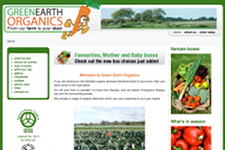 Green Earth Organics delivers fresh veg and produce from its organic farm in Galway, West of Ireland. As well as the vegetable box scheme, you can order exactly what you want (fruits, eggs, cheese and more), and get it delivered to your door, or at some local farmers' markets.
The new online shop is now up and running so you can place a once off order for extras, pay for it, or get a regular order every week.