Published: 01 February 2017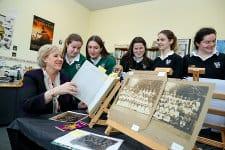 The Minister for Arts, Heritage, Regional, Rural and Gaeltacht Affairs, Heather Humphreys TD, is today (Wednesday) launching a new online genealogy toolkit for schools, aimed at encouraging students to trace their roots and explore their family tree.
The 2016 Family History website has been created by the National Archives as a legacy project under the Ireland 2016 Centenary Programme. Minister Humphreys met with students in Muckross College in Donnybrook, who have been trialling the website, to launch this new online resource.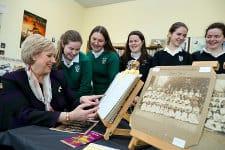 Minister Humphreys with students in Muckross College in Donnybrook
The website provides tips on how to find your ancestors, and brings together a range of online resources. Through informative videos and step-by-step guides, case studies and targeted tasks, students can learn how to explore the vast array of Irish historical records available online, including the census, civil records, military archives and church registers.
You can access the website here: https://www.irishgenealogy.ie/en/2016-family-history/welcome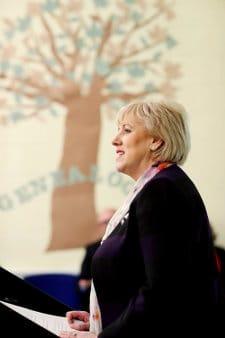 Speaking today Minister Humphreys said:
There is such a vast array of online historical records available, the challenge can often be knowing where to start. This new genealogy toolkit gives ample tips on how to do just that. It provides students with a step-by-step guide on how to search through a range of online databases and archives, allowing them to explore their family history.
One of the most significant legacies from the Ireland 2016 Centenary Programme is the huge investment we have seen by our Cultural Institutions in expanding their online archives. The National Archives, under the guidance of Caitriona Crowe, has developed this excellent website which will act as a fantastic resource for schools. While it is primarily aimed at secondary school students, it bound to appeal to a much wider age group, especially considering the growing interest in genealogy both at home and abroad.
Encouraging students to explore their family history can give them a greater appreciation of the seismic events which were happening in this country a century ago. It is now possible to explore records from the major conflicts which feature in the Decade of Centenaries, such at War World 1 and the 1916 Easter Rising. I hope this new website will serve as a valuable tool to help students reconnect with the past.
Director of the National Archives John Mc Donagh said:
This website site is aimed primarily at second-level students, but will also be useful to the general public, many of whom may think family research is daunting and difficult. With help from this site, it should be possible for most people to search records dating back to the early 19th century. The site contains case studies on Sean Mac Diarmada and Sean Lemass as examples of how to research and contextualise family history, with poignant accounts of Mac Diarmada's relationship with Min Ryan, who visited him on the night before his execution, and Sean Lemass's accidental shooting of his baby brother, Herbert, in 1916.
Official Press Release: http://www.ahrrga.gov.ie/minister-humphreys-launches-online-genealogy-toolkit-for-schools-to-help-students-discover-their-family-history/
As gaeilge: http://www.ahrrga.gov.ie/ga/minister-humphreys-launches-online-genealogy-toolkit-for-schools-to-help-students-discover-their-family-history/